FLORENCE (Binario 16 Montelungo) --> NAPLES (Metropark Corso A. Lucci)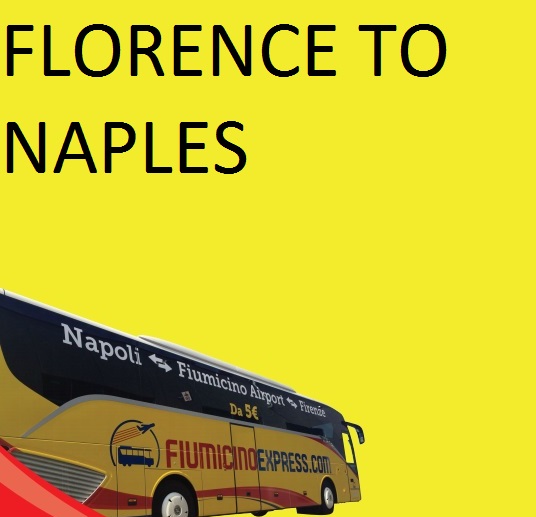 Duration: 7 Hours (approx.)
Location: Florence, Italy
Complete
Convenience
With generous
luggage allowance of 2 bags and a carry on as standard, flexibility on travel
if your flight is delayed, and modern, eco-friendly coaches featuring power
sockets, WI-FI, air conditioning, and WC, there is simply no better choice for a Fiumicino airport
transfer. As we have absolutely no changes between Rome and Florence or Napoli,
the journey is quick, convenient and stress free. Better still, we can safely
carry 2 pieces of luggage of up to 30kg each as well as hand
luggage, and if you need more, then we can carry extra bags for a small
additional fee.
To offer you as
much flexibility as possible, we have 12 coaches a day, 6 in each direction,
which take you directly to terminal 3 in Fiumicino Airport, from either the
centre of Naples or close to Florence's main train and coach station - Santa
Maria Novella (SMN). This means you can book the most convenient option to suit
your departure or arrival time and still have time for one last aperitivo
before you take off.
Our
mission is simple - we want to save you time and money.
Fiumicino Express is the new transfer service between Fiumicino
Airport, Florence and Napoli. We launched to meet the
demands of savvy travellers who are looking for a low cost, no fuss connection
between Italy's largest airport and two of Italy's most popular destinations: Florence
and Naples. We're a quick and convenient
alternative to train travel, providing a stress-free way to start and finish
your trip to Italy. We pick you up in the city of your choice and drop you off
directly at the airport (and vice-versa) - with no stressful changes and
no need to worry about your luggage, which will be safely stored in our modern,
eco-friendly coach.
Travelling with Fiumicino
Express is easy and hassle free. We provide the most convenient way to travel
between Fiumicino and Florence or Napoli, providing the fastest travel time
between pick up and drop off and the cheapest option for travel to Fiumicino Airport
- starting from just 5 Euros for a single ticket. Its incredible value for
money and we've made booking your airport transfer extremely easy too. Simply
select your departure and arrival destinations and buy your tickets directly
on-line, and if you're late or if your flight is delayed, all you need to do is
reprint your ticket from the website no later than 30 minutes before your
desired departure time.
We provide a
transparent modern coach service for savvy travellers who want to maximise
their time and save a little money on their trip to Italy.
It's that simple.